To the GelreDome
ASAS venue: The GelreDome
Address: Batavierenweg 25, 6841 HN, Arnhem
The GelreDome is easy to reach for all types of traffic. To visit ASAS, you should take the main entrance. The main entrance is located at the west side of the building (see the blue/pink dot at the image below).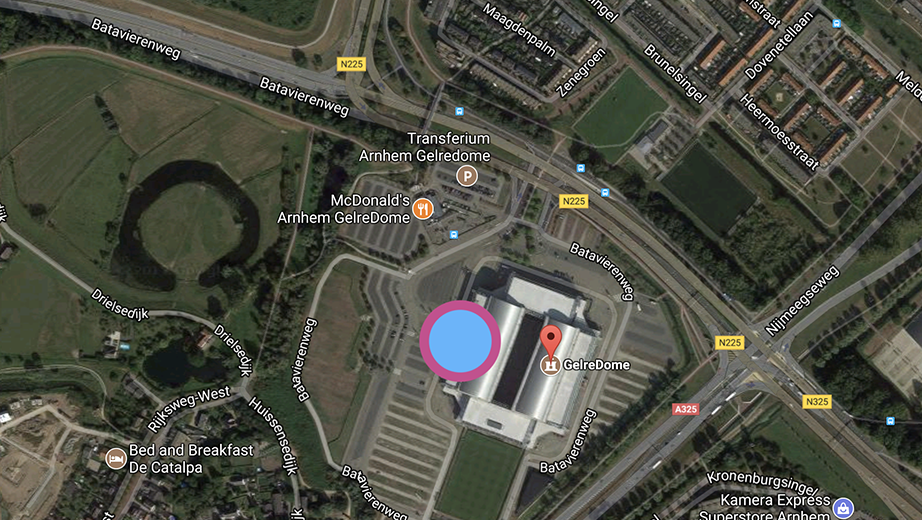 Car
The GelreDome is easy to reach by car. You can plan your route here. There are 4000 free parking spots right in front of the building. The parking spots titled 'Arnhem' and 'Madrid' are located directly in front of the entrance.
Public Transport
When you're travelling from outside Arnhem, you can take a train to Arnhem Central Railway Station (Arnhem Centraal). From there you can take a bus to the bus stop named 'GelreDome'. This takes less than 10 minutes! You can take one of the following busses:
Bus 7, direction Rijkerswoerd
Bus 331, direction Nijmegen Weezenhof
To the Afterparty
Afterparty venue: Falstaff
Address: Zwanenstraat 18, 6811 DD, Arnhem
Car
The ASAS afterparty takes place in Falstaff in the city centre of Arnhem. You can visit the afterparty by car and park at one of the parking garages like Rozet or Q-Park.
Please note: The parking at the GelreDome closes at 21:30. If you're planning to leave your car at the GelreDome and pick it up later that evening, you can park in front of the McDonald's - outside the fence of the Gelredome. The parking spots in front of the McDonald's are available all night!
Public Transport
You can take the bus from the GelreDome to the city centre. This takes, walking included, 10 minutes. There are 8 busses leaving per hour.
Bus 7, direction Geitenkamp (Bus stop: Willemsplein)
Bus 331, direction Velp Zuid (Bus stop: Rijnstraat)